Reflect Festival, a future-casting event with Cypriot roots, will take place at the home of each participant this year. The organizers have decided to move the event solely to virtual space amid the growing number of Covid-19 cases. "Until the very last minute, we hoped a physical event will be possible this year, but it would simply be irresponsible. Nevertheless, we are going ahead with a rich festival program online, and we remain dedicated to our mission to (re)connect people who can shape change," says Stylianos Lambrou, co-founder of the festival. 
Reflect will take place in the course of 3 days - on October 8, 9, and 10. The moderated, entertaining program will run from a virtual studio in Limassol, Cyprus, where speakers from all over the world, as well as Cypriot thought leaders, will join remotely. "We are working hard to prepare an experience I'd compare to your favorite talk show. It will be dynamic, it will be fun, and it will include opportunities to network and arrange meetings as well," Lambrou explains. 
Reflect is a future-focused festival organized in Limassol for the 3rd time. As the largest event of its kind in the region, it will connect businesspeople, corporates, startups, academia, entrepreneurs, students, and tech & science enthusiasts, both local and international. The speakers include Claude Silver, Chief Heart Officer at VaynerMedia, Bryony Cole, Founder at Future of Sex, and Adam Bonnifield, VP Artificial Intelligence at Airbus. One of the program's highlights will be a competition of startups with positive impact: Reflect Impact Awards, taking place for the first time ever.
The 3-day program will paint a holistic picture of our severely disrupted future, be it technological advancements, next steps after the crisis, or the environment around us. The presenters will tackle topics such as future society, money & economy, and future of business. Besides that, "human" subjects will be presented as well - speakers will share their thoughts on happiness & self-development, future of relationships, and productivity. "All we want is to remind people that the only way is forward. This edition's main mission is to connect those eager to be a part of the inevitable reset of the way we live and conduct business," says the organization team. "While we're happy that there is a way to meet even during a pandemic, we also can't wait to gather our community in flesh for the 2021 physical edition," they add. The date will be confirmed after the 2020 festival takes place. 
More information about the speakers, program, and answers to the most frequently asked questions can be found on Reflect's website, and the team is happy to clarify any missing info on [email protected]. The tickets can be purchased on the website as well, and one lucky winner will be picked for a trip to Cyprus with a ticket for 2021 Reflect included.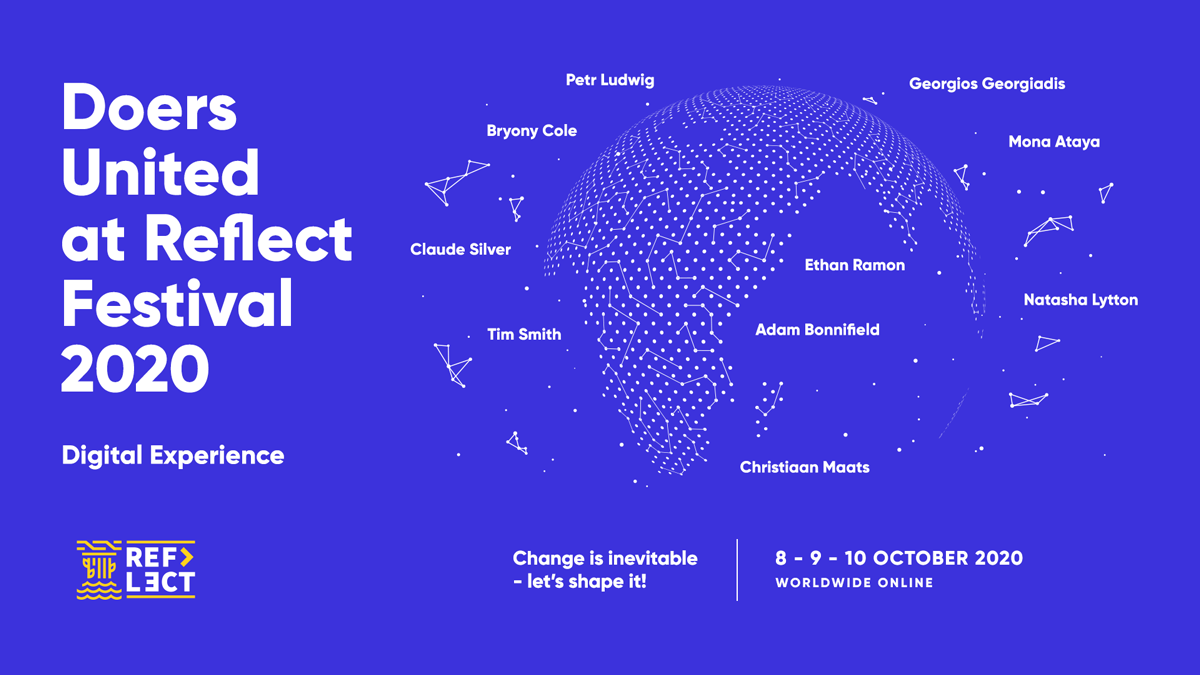 FAQ
"Why has Reflect Festival decided to organize this year's festival online?"
Due to the current situation regarding Covid-19, it's for the best for all our Reflectians to stay home and stay safe. Our goal has always been to open up Cyprus to the world and create opportunities for everyone visiting: we wouldn't live up to our vision if we exposed our audience to the danger that is unfortunately once again on the rise. 
"When it is? Can I join only 1 day?"
The festival takes place on October 8-9-10, and our tickets include all 3 days. 
"Will there be a physical event?"
The physical event will not take place in 2020, but we can't wait to see you in 2021!
"Where will the festival take place?"
In your home! :) We will stream the festival from the live studio in Limassol, Cyprus, for all of our virtual attendees.
"Has the price changed since the Reflect Festival is going virtual?"
The price for the virtual experience is set to symbolic 29 EUR, so it is lower than tickets for a physical festival. 
"What happened to the tickets that we already purchased?"
Your tickets are automatically transformed into the digital experience plus they do include the admission for Reflect Festival 2021 in Limassol. 
"Can we get a refund?"
If you cannot attend this and next year, you can ask for a refund on [email protected] by September 1, 2020. 
"What will the festival look like this year?"
Even with no physical edition, it will be a festival with all the features we can pack into your computer screen: presentations, Q&As, networking, entertainment, and business meetings. 
"Is there a package/discount for companies or bigger groups?"
Absolutely! Reach out to [email protected] and we'll tailor an offer for your needs.
"What values does Reflect Festival bring to my personal & professional life?"
Reflect aims to educate and entertain, broaden horizons as well as spark action, and connect you to people who can change the course of your life - whether it's strictly business or friendship for life. Our vibrant community starts in Cyprus and goes way beyond
"What are the options for partnership?" 
There are still some opportunities to partner up with Reflect: reach out to [email protected] 
"Can I roll over my ticket for the 2021 event?"
Absolutely!
"What if I cannot attend next year?"
Of course, you will be eligible for a refund. 
"Will there be a change in the program?"
Conference programs always change until the very last minute, whether they are online or not. We are spreading our program for three days, so you can definitely expect some news along the way!