Limassol witnessed an incredible transformation on September 20-21, when more than 8000 international entrepreneurs, decision-makers, and investors took over the city to discuss technology, startups, and innovation.
Something unprecedented happened in Limassol on September 20-21: more than 8000 people, including 200 speakers, gathered to celebrate technology, innovation, and entrepreneurship. The 6th Reflect Festival was a resounding success, with enthusiastic responses from the audience that witnessed the festival's first truly global edition.
"While we've always welcomed international attendees, this is the first time we can confidently say that Cyprus now hosts a truly world-class, international event with a program curated for a global audience: be it to learn, grow their portfolios, or boost their network," says Stylianos Lambrou, the festival's co-founder.
"We've invited more than 200 speakers coming from all over the world and organized more than 20 targeted side events to make sure we enable relevant connections. With stages and booths all over the city, the festival couldn't be missed, and the spotlight on Cyprus as a tech hub was larger than ever," adds Dusan Duffek, also a co-founder of Reflect. The festival greatly benefited from its island location right next to the sea, making it a one-of-a-kind experience that doubles as both a business opportunity and a vacation, ideal for busy entrepreneurs.
The melting pot at the crossroads of continents
Reflect 2023 hosted speakers such as Ankur Nagpal (the founder of Teachable, company sold for $250M), Derek Sivers (bestselling author of entrepreneurship and philosophy books), and Ida Tin (Co-founder, former CEO, and chairwoman of Clue, one of the most trusted female health apps). Over 100 investors and 200+ startups came to the island, resulting in two days full of networking, knowledge-sharing, and fun.
The colorful stages, booths, and fun activities formed a so-called "playground for doers" in Limassol. Meanwhile, the city's restaurants, bars, and other areas transformed into networking lounges and party venues.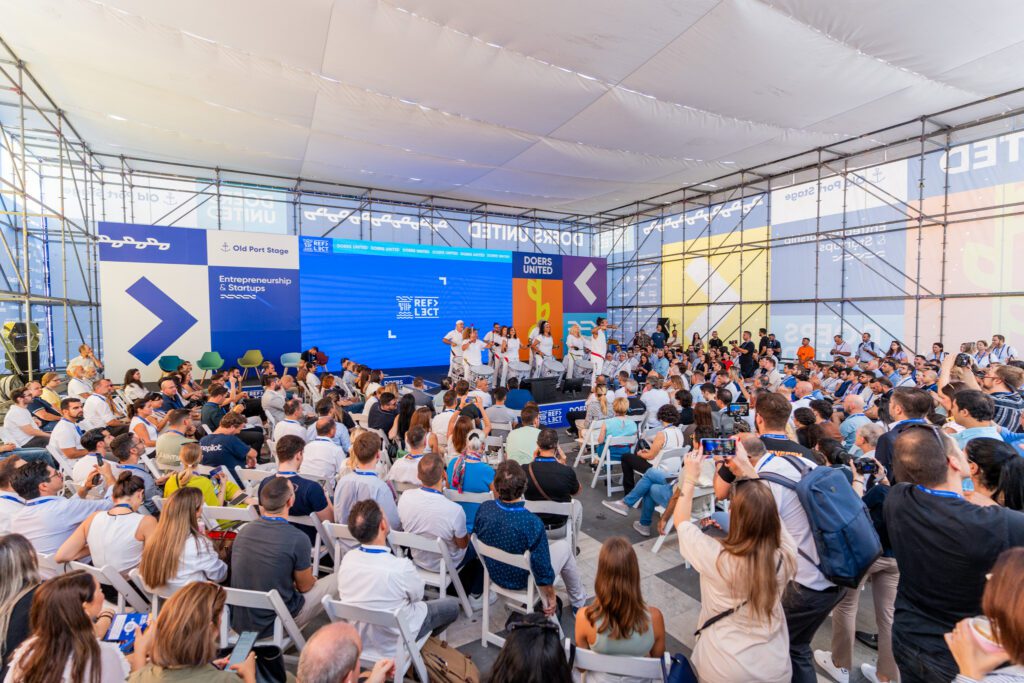 Reflect's packed program
The topics at the Entrepreneurship & Startups Stage at the Old Port catered to founders, startups, and investors, with representatives of companies such as Rothschild & Co, Startup Wise Guys, Mangrove Capital Partners, Henkel dx Ventures, and Ejada Capital discussing on stage.
ReflectX, a startup competition, took over the stage in the afternoon, with a dramatic showdown of talented startups concluding with the announcement of the winner: Soula, an AI pregnancy coach, founded by Natallia Miranchuk. "We have big plans with ReflectX in the years to come, bringing even more visibility and opportunities to the startup ecosystem in and around Cyprus," says Alexander Jahn, Managing Partner of Reflect Festival.
The Money & New Tech Stage in Carob Mill was once again supported by payabl., and packed with stories related to areas booming (not only) in Cyprus—fintech, blockchain, gaming, and AI. The You 2.0 Stage (Molos) was the most personal, with topics spanning health and well-being, the future of work, and a variety of stories about the future of society—be it the future of dating, cities, mobility, sustainability, education, or impact.
Limassol's Pier hosted the TechIsland Summit, uniting prominent leaders to discuss Cyprus's focus on tech innovation. The Trend Forecast Stage showcased future-focused tech topics, such as deep tech, robotics, no-code solutions, and much more.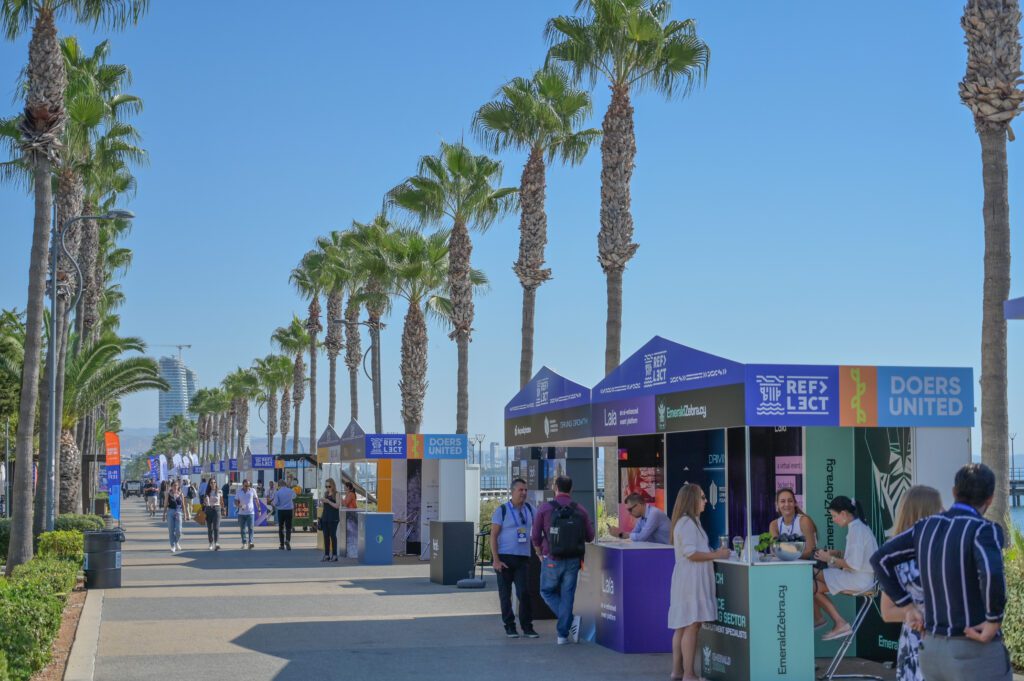 The expo featured over 200 companies, with both Cypriot and international startups, scale-ups, and tech players showcasing their innovative products and services. Additionally, event partners have prepared exciting activities within their booths, further enriching the exhibition area.
As for side events, the festival went all out, maximizing networking opportunities as much as possible.
To mention a few, the biggest Reflect opened with a bang at The Warehouse with the DayZero opening party. The rooftop of the Porto Bello building once again opened for Reflect's VIP guests, overlooking the scenic city of Limassol as the sun set on September 20. Invited guests enjoyed a scenic ride in the blue waters around the city, as well as drinks and informal discussions during The Journey. XYZ, Reflect's closing party, turned the beautiful Limassol Agora into a party venue on September 21.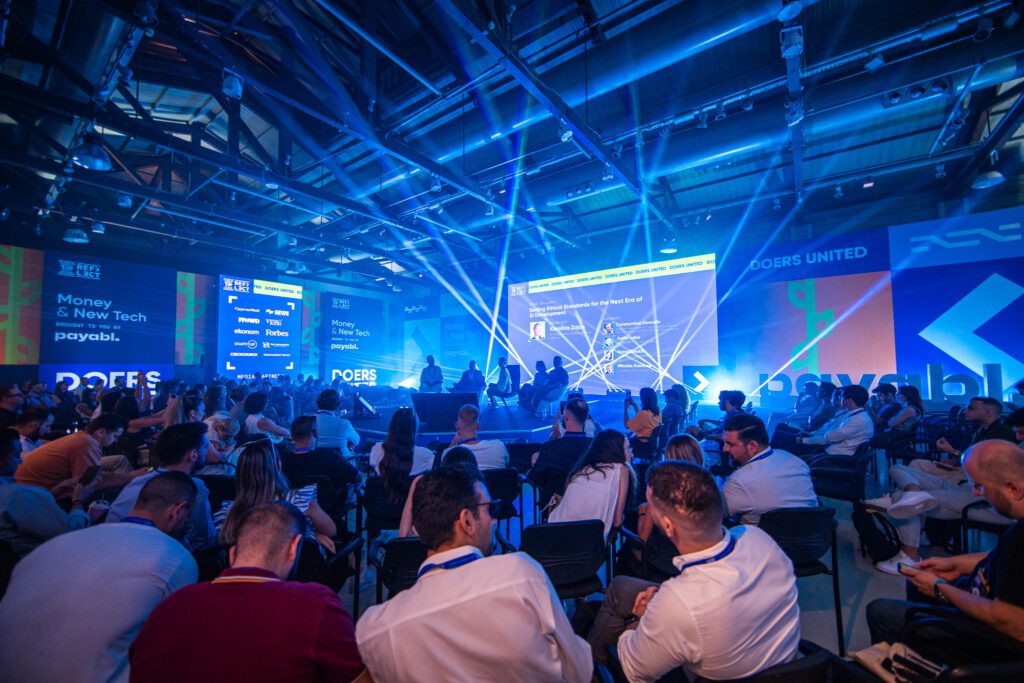 The festival's Country Partnership Program
This year's Reflect established an important Country Partnership program with a purpose to connect ecosystems by providing access to markets, talent, and funding.
Besides the festival's long-term partners like Cyprus, Slovakia, and Israel, India became the Country Partner 2023. This marks the first time India has sent a startup delegation of more than 10 startups and 20 entrepreneurs, investors and public officials to Cyprus
Initiated by Reflect and the High Commission of India, Nicosia, this delegation was organized by Startup India, India's largest public program for startups, overseeing more than 100,000 startups in the country. In addition, T-Hub, India's largest technology incubator joined the delegation with entrepreneurs and a selection of their startups.
This showcases the remarkable potential for Reflect to become a bridge between the technology ecosystems.
Organizers have already announced the festival's next edition, which will come earlier than expected: on May 30-31. Their goal is to bring 10.000+ attendees to Limassol and take yet another major step to put Cyprus, as well as the startup ecosystem of the EMEA region, on the map.
…
Reflect Festival is the largest technology and startup festival in Cyprus. It unites a diverse community of tech enthusiasts, founders, startups, decision-makers, and investors for an immersive city experience filled with insightful talks, panels, workshops, an expo, startup competitions, and networking opportunities. Reflect Festival aims to bridge the gap between Europe and MENA and create meaningful business value by fostering connections, innovation, and collaboration in the tech industry. Its mission was supported by payabl. ,PwC, CYTA, RIF, Invest Cyprus, Elias Neocleous & Co, FlexCar, Social Discovery Group, SuperScale, Imperio, Treppides, Matador Group, Sparring, Hellenic Bank, and many other partners.
Reflect's next edition will take place on May 30-31, 2024.