payabl.'s CPO, Igor Skachkov shares his view and insights on embedded finance in the payments industry.
Embedded finance has become the new frontier in the financial industry, introducing a fresh wave of innovation and competition. This groundbreaking concept involves integrating financial services into non-financial applications, creating seamless, customer-centric experiences by offering diverse services under one roof. Let's explore the evolution of embedded finance, how it emerged, and the exciting possibilities it brings.
The Emergence of Embedded Finance
The roots of embedded finance can be traced back to the early days of eCommerce, where external payment service providers facilitated seamless payment processing for merchants. This integration allowed businesses to focus on their core offerings while leveraging specialised financial services externally.
More recently, the term "Embedded Finance" gained prominence, largely driven by two factors. First, the development of Open Banking in the European Union, particularly with the introduction of PSD1 (Payment Services Directive 1), that enabled non-banks to process transactions. Second, the rise of Super Apps in Asia, by companies like Alipay and WeChat, offering a myriad of in-house and third-party services in a single application.
The Impact of Open Banking
Open Banking, spearheaded by regulatory initiatives like PSD2, compelled banks to share financial information with third-party providers. This marked a turning point, as companies realized that they didn't need to be traditional banks to deliver services that were once exclusive to the banking sector. This newfound access to banking data and services spurred the growth of various applications and businesses built around Open Banking technology.
Challenger Banks Empowering the Unbanked
Challenger banks, such as Revolut, emerged to address the needs of the unbanked and underbanked segments of the population. By offering easy onboarding, instant payments, and additional services, they filled the gap left by conventional banks. Many challenger banks, however, partnered with traditional banks to handle core banking functions, ensuring a secure and regulated environment for their customers.
The Rise of Flexible Banking Players
In this transformative landscape, flexible banking players like Solaris Bank and Railsr entered the scene. Possessing banking licenses but operating more nimbly than traditional banks, these players provided superior services and opened their APIs for various banking operations. Consequently, the adoption of banking services within different applications surged.
Diverse Applications of Embedded Finance
Embedded finance has unlocked opportunities across various sectors. Here are some notable examples:
M&S' loyalty club members will soon have access to a new digital credit option for online and app payments, alongside a rewards credit card, as part of an enhanced shopping experience, while M&S Bank shifts focus away from in-store banking services towards online and telephone-based offerings.
Amazon has expanded its services to include embedded finance, like Amazon Pay for easy payments, which is part of a growing trend predicted to be worth over $183 billion; they offer various solutions for simpler payments, and now they're partnering with Parafin to provide a cash advance program for certain sellers.
Uber has introduced a new debit card for drivers, aimed at providing financial services and benefits tailored to their needs.
The advent of embedded finance and BaaS has revolutionized the financial landscape, breaking down barriers and enabling diverse applications to provide a range of financial services to their customers. This seamless integration of finance and non-finance offerings is set to redefine the future of banking and create exciting possibilities for innovation and customer-centric experiences across various industries. As more players enter this game-changing space, we can anticipate an even greater transformation in the way we interact with and access financial services.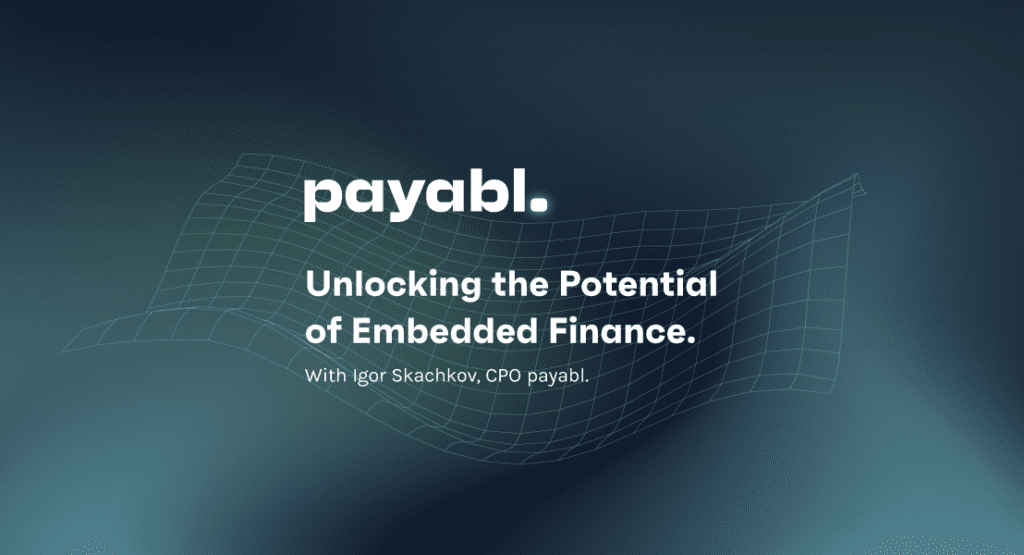 Interested in hearing more about Embedded finance? Attend payabl. CPO, Igor Skachkov's presentation- Unlocking the Potential of Embedded Finance at the Reflect Festival.