Reflect

Festival:

the

journey

to

a

global

festival

celebrating

the

future

throughout

Limassol
Back in 2018, Reflect Festival was a spontaneous idea that resulted in a small conference full of passionate, curious minds and new business ideas. Fast forward to today, and we're talking about the most impactful future-focused & tech event in Cyprus.
From humble beginnings to Sophia the Robot
"Born and raised in Limassol, I've always believed that our island is uniquely positioned for great things," says the Reflect Festival co-founder, Stylianos Lambrou. Back in 2018, he and another co-founder from Slovakia, Dusan Duffek, thought that "meeting in the middle" between the Middle East and Europe makes perfect sense. 
And so, Reflect was born, with the goal to boost Cypriot startup, tech, and business ecosystem and create a hub connecting it with the rest of the world. On top of that, it was an opportunity to bring world-class experts and presenters to Cyprus. The conference speakers included founders and entrepreneurs such as Juraj Vaculik, the Founder & CEO of Aeromobil, and representatives from Facebook, Microsoft, Google, Nvidia, as well as notable investors. 
One year later, the Reflect Festival was suddenly so much more than a friendly, small-scale meeting of like-minded individuals. More than 2000 attendees gathered in Carob Mill in Limassol to listen to the likes of Sujay Tyle (co-founder at Frontier Car Group), Chris Duffey (Head of Strategic Development at Adobe), Nat Ware (Founder & CEO at Forte), and Iman Oubou (Founder & CEO at SWAAY Media). The keynote speech was delivered by Sophia the Robot, the world's first android citizen, who, according to her own words, enjoyed visiting Cyprus very much! 
Moreover, the event included a dedicated expo area, which brought the technology and innovation even closer to the audience. Attendees were able to play chess with AI, try out a VR autism simulator, and learn about the newest projects of participating companies, among other activities. This edition cemented Reflect as an event with a significant impact on the Cyprus ecosystem, putting the country on the map as a global tech hub.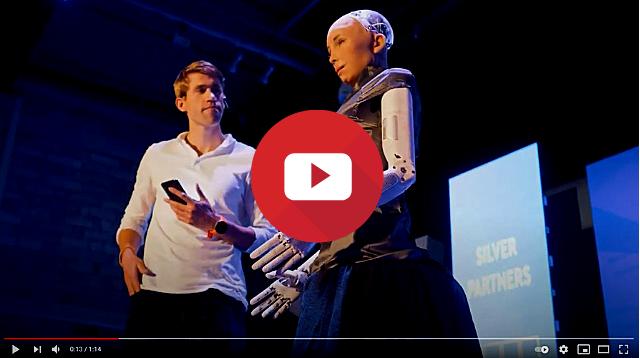 Reflect in the Covid-19 era
Naturally, the 2020 edition was going to be even bigger, more international, valuable, fun… And boom, among all the planning, came the pandemic. "There wasn't really a moment where we'd think about giving up. From one day to another, the festival transformed into a hybrid experience with an online audience. It was quite a ride, but in the end, we managed to deliver what we wanted for the attendees that were largely stuck at home, eager to connect, discuss and create," explains Dusan Duffek. 
The 2019 edition brought together more than 3000 people in October 2020 amidst the devastating second wave of the pandemic. Some of the most high-profile speakers joined the hybrid Reflect to support the mission of moving forward and shaping a better future. The festival welcomed Yossi Vardi, the godfather of Israel's hi-tech industry; Claude Silver, Chief Heart Officer at VaynerMedia; Bryony Cole, Founder and CEO at Future of Sex; Niklas Jansen, Co-founder at Blinkist; and Kyriacos Kokkinos, Deputy Minister at Deputy Ministry of Cyprus for Research, Innovation & Digital Policy. 
Up to date, more than 7000 people have been part of Reflect, be it online or offline. More than 150 speakers from 40+ countries shared their experiences. 
Today, Reflect is an established annual celebration of the future, uniting doers eager to shape our tomorrow. Together, the people at Reflect learn from original thinkers, build new networks, and explore innovation changing the world. This year, the festival is being reinvented to enhance the experience and safety of partners, speakers, and attendees. The immersive city experience will provide access to multiple locations, including the castle area, a floating stage, rooftops, and more, creating an awe-inspiring live event. The venue is now the whole Old City of Limassol, bringing Reflect one step further in its mission to ignite curiosity and inspire new ideas, businesses, and inventions. 
#reflectfest